---
---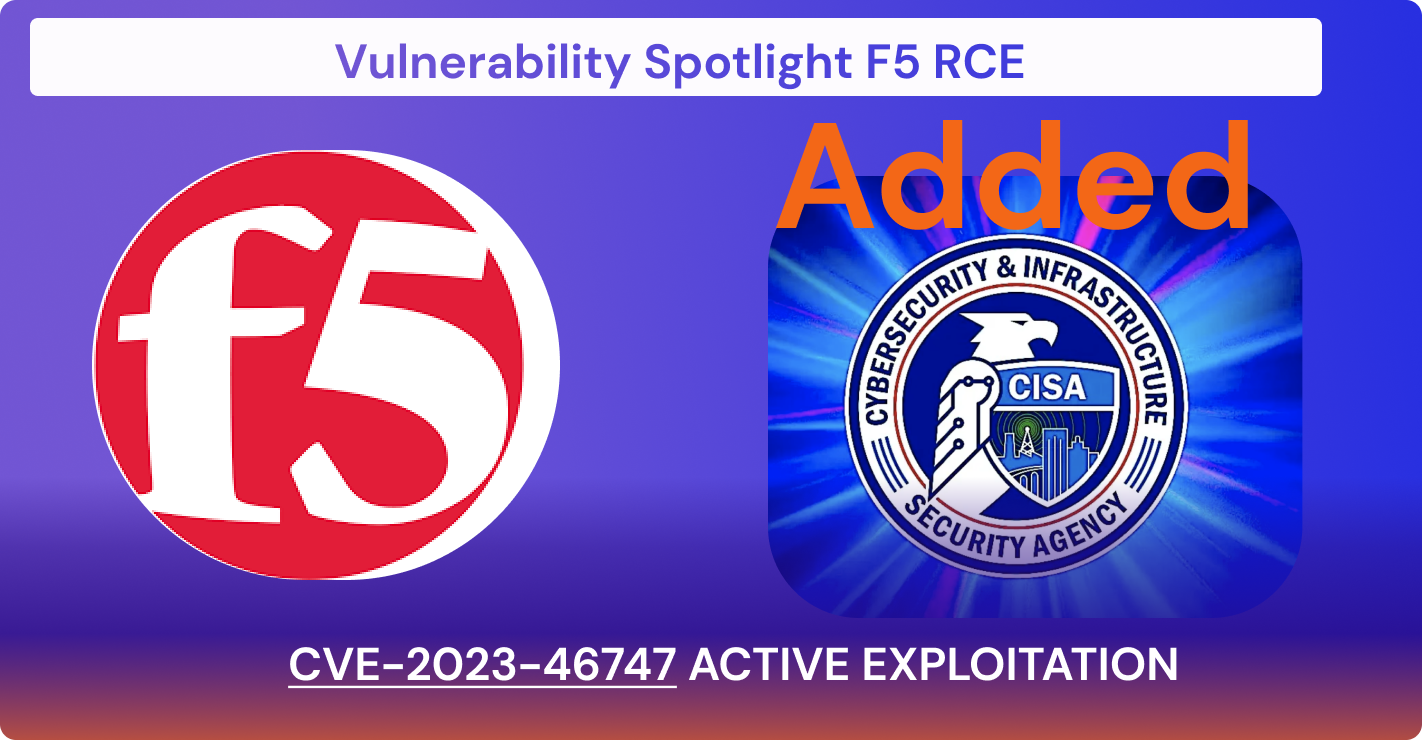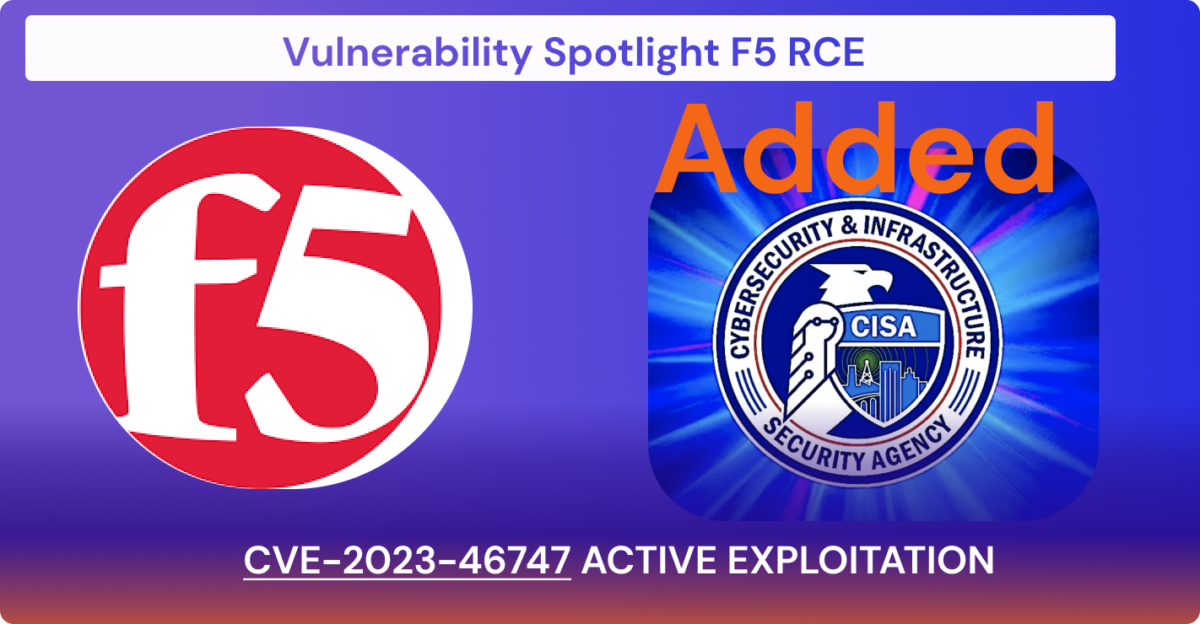 With a very large deployment base F5 Big IP and CVE-2023-46747, remote code execution vulnerability has scared both application security professionals and vulnerability management network teams.
With recent exploitation of atlassian, Cisco, Curl, Http/2, and many other the end of the year feels like an endless sprint, except the hurdles are Zero-Day vulnerabilities, and the runners are cybersecurity professionals. F5 recently issued a warning about active abuse of a critical security flaw in its BIG-IP systems. Tracked as CVE-2023-46747 with a CVSS score of 9.8, this vulnerability is no laughing matter. In this blog, we'll dissect the vulnerability, its exploitability, and the threat intelligence surrounding it.
The Vulnerability: CVE-2023-46747
The CVE-2023-46747 vulnerability allows an unauthenticated attacker with network access to the BIG-IP system through the management port to achieve code execution. It's like leaving your front door open with a sign that says, "Come on in, the coffee's hot!"—except instead of coffee, it's your system's security at stake.
Shadowserver message of increased exploitation
Not surprisingly given its inclusion in the Nuclei scanner, since Oct 30th we are seeing F5 BIG-IP CVE-2023-46747 attempts in our honeypot sensors. Make sure to review your system for signs of compromise and patch before more threat actors jump in: https://my.f5.com/manage/s/article/K000137353
Affected Versions for CVE-2023-46747
17.1.0 (Fixed in 17.1.0.3 + Hotfix-BIGIP-17.1.0.3.0.75.4-ENG)
16.1.0 – 16.1.4 (Fixed in 16.1.4.1 + Hotfix-BIGIP-16.1.4.1.0.50.5-ENG)
15.1.0 – 15.1.10 (Fixed in 15.1.10.2 + Hotfix-BIGIP-15.1.10.2.0.44.2-ENG)
14.1.0 – 14.1.5 (Fixed in 14.1.5.6 + Hotfix-BIGIP-14.1.5.6.0.10.6-ENG)
13.1.0 – 13.1.5 (Fixed in 13.1.5.1 + Hotfix-BIGIP-13.1.5.1.0.20.2-ENG)
The Exploit Chain: Exploit and CVE-2023-46747
F5 has observed threat actors exploiting this vulnerability in conjunction with CVE-2023-46748, an authenticated SQL injection vulnerability in the BIG-IP Configuration utility. It's like a hacker's version of a double espresso—two exploits for the price of one.
Threat Intelligence and Nation-State Actors exploiting CVE-2023-46747
The exploit chain is particularly concerning because it opens the door for Nation-State actors to execute arbitrary system commands. This is not just a vulnerability; it's a potential geopolitical weapon.
Which Versions are Vulnerable to CVE-2023-46747?
F5's advisory has clearly outlined the versions of BIG-IP that are vulnerable to this critical flaw:
17.1.0 (Fixed in 17.1.0.3 + Hotfix-BIGIP-17.1.0.3.0.75.4-ENG)
16.1.0 – 16.1.4 (Fixed in 16.1.4.1 + Hotfix-BIGIP-16.1.4.1.0.50.5-ENG)
15.1.0 – 15.1.10 (Fixed in 15.1.10.2 + Hotfix-BIGIP-15.1.10.2.0.44.2-ENG)
14.1.0 – 14.1.5 (Fixed in 14.1.5.6 + Hotfix-BIGIP-14.1.5.6.0.10.6-ENG)
13.1.0 – 13.1.5 (Fixed in 13.1.5.1 + Hotfix-BIGIP-13.1.5.1.0.20.2-ENG)
It's like a cybersecurity version of Russian roulette, except you definitely don't want to play.
Consequences of the CVE-2023-46747 Vulnerability
The vulnerability allows for unauthenticated remote code execution, rooted in the configuration utility component. F5 has emphasized that there's no data plane exposure; this is a control plane issue only. In layman's terms, it's like having a flaw in the cockpit of an airplane but not in the passenger cabin—still catastrophic, but contained to a specific area.
Mitigations and Workarounds for CVE-2023-46747
F5 has provided a shell script for users of BIG-IP versions 14.1.0 and later. But heed their warning: "This script must not be used on any BIG-IP version prior to 14.1.0 or it will prevent the Configuration utility from starting." It's like using a sledgehammer to crack a nut—effective, but potentially disastrous if misapplied.The vulnerability CVE-2023-46747 is still unpatched.
Additional options:
Block configuration utility access trough self IP address or management interface to prevent CVE-2023-46747 exploitation
for the script: https://my.f5.com/manage/s/article/K000137353
Indicators of compromise
This information is based on the evidence F5 has seen on compromised devices, which appear to be reliable indicators. It is important to note that not all exploited systems may show the same indicators, and, indeed, a skilled attacker may be able to remove traces of their work. It is not possible to prove a device has not been compromised; when there is any uncertainty, you should consider the device compromised. For information about handling suspected compromised systems, please review K11438344: Considerations and guidance when you suspect a security compromise on a BIG-IP system.
All versions
F5 has observed threat actors using this vulnerability to exploit CVE-2023-46748. For indicators of compromise for CVE-2023-46748, please refer to K000137365: BIG-IP Configuration utility authenticated SQL injection vulnerability CVE-2023-46748.
Vulnerability Management and Application Security Measures
Given the critical nature of this flaw, vulnerability management and application security should be at the forefront of your cybersecurity strategy.
Indicators of Compromise (IoCs)
To check for IoCs associated with the SQL injection flaw in CVE-2023-46747 users are recommended to check the /var/log/tomcat/catalina.out file for suspicious entries like:
java.sql.SQLException: Column not found: 0.

sh: no job control in this shell

sh-4.2$ <EXECUTED SHELL COMMAND>

sh-4.2$ exit.
To note
In the line of Column not found: 0, the 0 can be replaced with a different number.
In the line of <EXECUTED SHELL COMMAND>, the command will be replaced with a different command.
Exploitation details for F5 CVE-2023-46747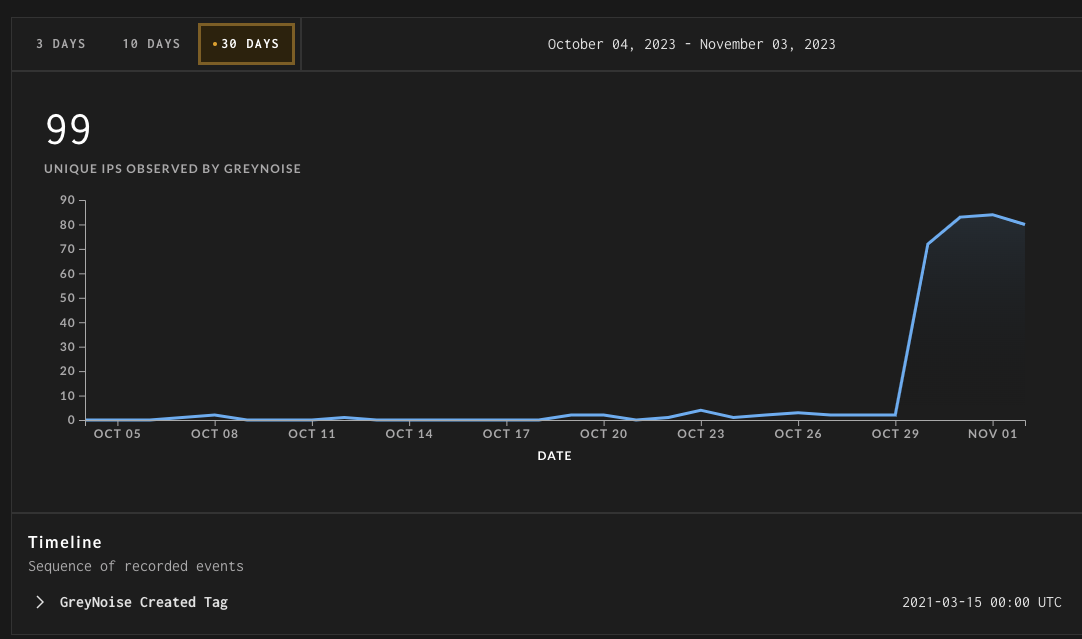 Details for CVE-2023-46747
CTI interest: Low 0.76 (low but increasing)
RCE Type Remote: High, Access through HTTPS port (recommended disabling) with chance of Privilege escalation
Exploit Availability: Yes
EPSS Score: – a recent addition – 0.05214, date November 3 2023
With exploitation progress increasing and various targeted countries, the attention should be high according to Shadowserver foundation data)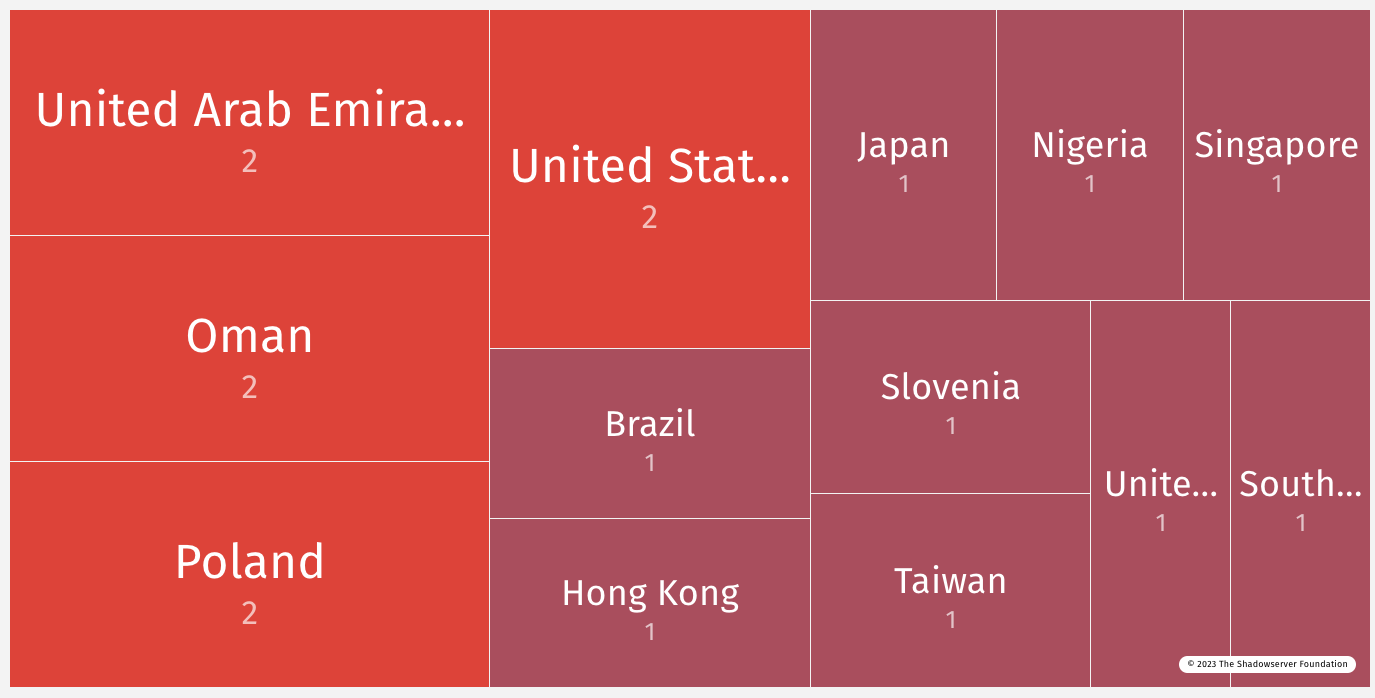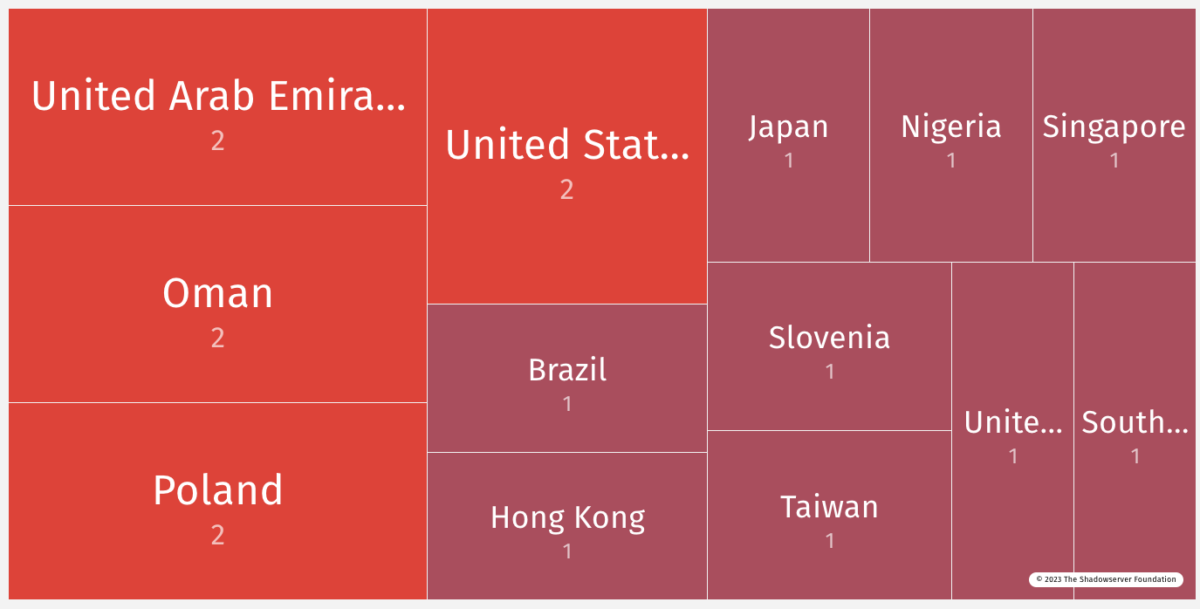 Currently, there are 466,584 big ip systems in the world according to shodan statistics (note a lot of those systems are used for honeypot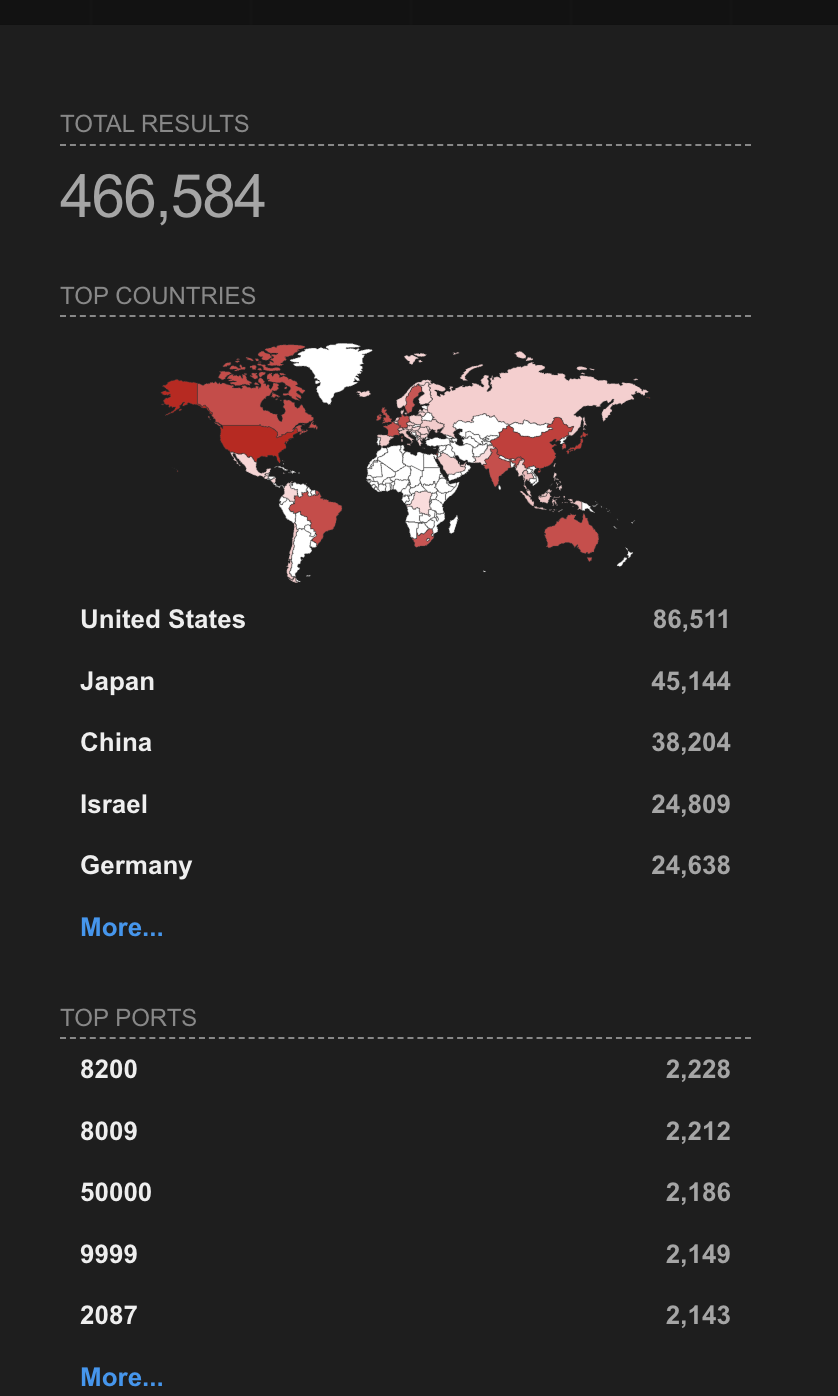 Block Configuration utility access through self IP addresses
Block Configuration utility access through the management interface
Credits and Additional Recommendations
Kudos to Michael Weber and Thomas Hendrickson of Praetorian for discovering and reporting this vulnerability. Their technical report describes the flaw as an authentication bypass issue that can lead to a total compromise of the F5 system. They also recommend restricting access to the Traffic Management User Interface (TMUI) from the internet.
Historical Context
It's worth noting that CVE-2023-46747 is the third unauthenticated remote code execution flaw uncovered in TMUI, following CVE-2020-5902 and CVE-2022-1388. As the researchers pointed out, "A seemingly low impact request smuggling bug can become a serious issue when two different services offload authentication responsibilities onto each other."
Conclusion
This vulnerability poc is actively exploited and templates as well as exploit evidence is widely available. The devil is often in the details—or in this case, the versions and mitigations. Understanding the nuances of each can be the difference between a secure system and a compromised one.
How Phoenix Security Can Help
Phoenix Security is a comprehensive security solutions like ASPM and vulnerability management that can cover vulnerabilities from code to the cloud are essential to accelerate vulnerability management and scaling. Phoenix Security is here to automatically ingest vulnerabilities from code to cloud and prioritize vulnerabilities at scale. Phoenix also communicates the timeframe for resolution for the government organizations that must comply with CISA and related regulations.
Phoenix Security serves as a beacon for security professionals aiming to pinpoint the CISA kev and ransomware-related exploits within their systems. It meticulously scans your product, identifying instances where the CISA kev vulnerability may be affected. By leveraging Phoenix Security, you not only unravel the potential threats but also take a significant stride in vulnerability management, ensuring your application security remains up to date and focuses on the key vulnerabilities.
Get a Free Assessment today
Previous Issues of Vulnerability Weekly
---
---