Littlefair's executive expertise cybersecurity background will help the posture management platform refine the offering for the boards and other executives as the product scales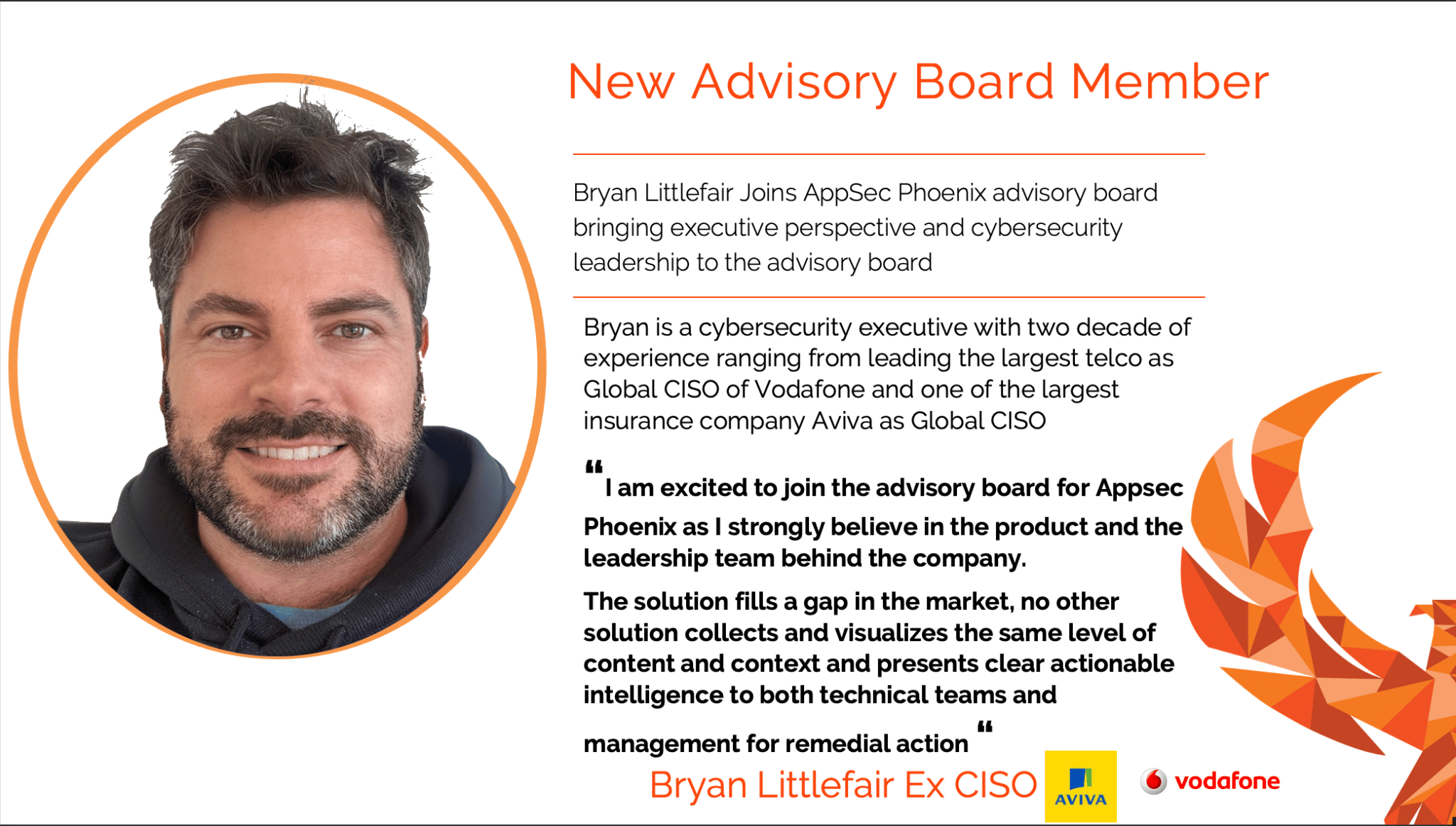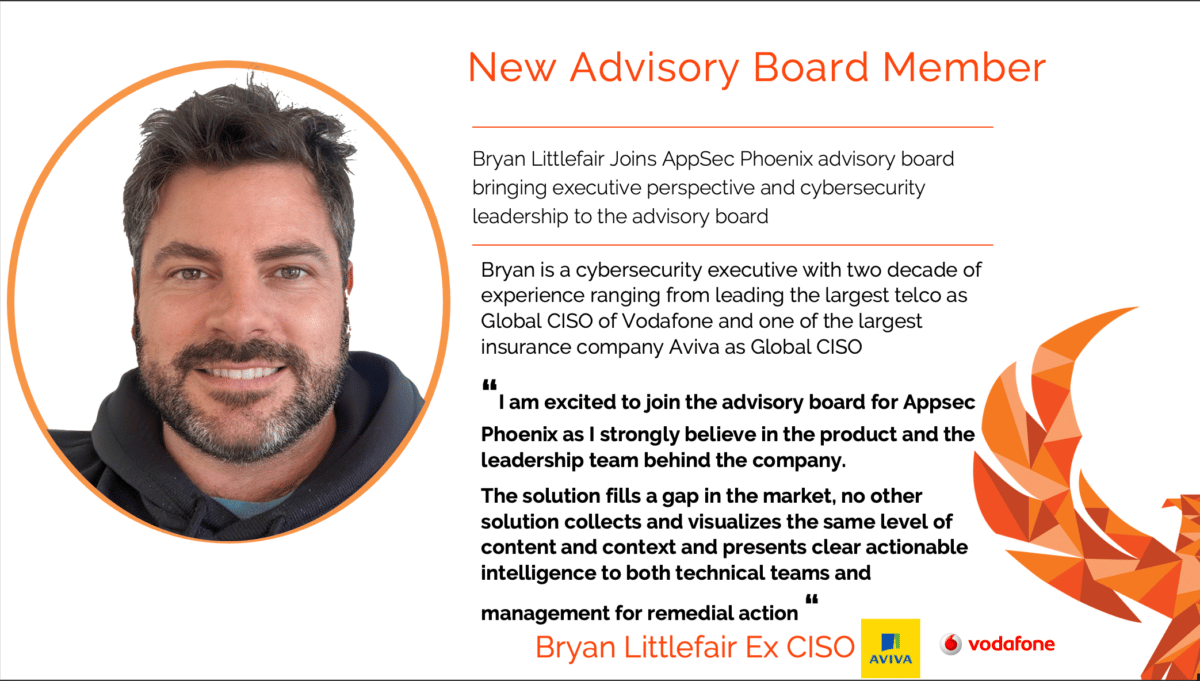 LONDON, England (February 15, 2022)— AppSec Phoenix, an innovative risk-based security platform for cloud and application security posture management, has announced the addition of Bryan Littlefair to its board. Littlefair brings over two decades of executive experience to AppSec Phoenix's advisory group, helping the company grow and scale-up its cybersecurity expertise as it enters its series A funding. Littlefair will be part of AppSec Phoenix's Technical advisory board and the Business Advisory board.
Littlefair is currently the board advisor for enterprises like Legal & General and Chief Information Security Officer for several organizations. Littlefair has been driving Aviva's global security offering as well as Vodafone Group in two of the biggest security transformations the UK has seen. Littlefair has also been supporting Cylon and is a lecturer at the University of Warwick
With an extensive background spanning telecommunication, financial institution Littlefair excels in leading organizations and building actionable security strategies helping organizations and board to get laser focus on security.
"We are excited to get such a high calibre executive and a pillar of the cybersecurity community on board as an advisor," noted Francesco Cipollone, CEO and founder of AppSec Phoenix. "Littlefair's domain knowledge, years of experience, and honest, straightforward talk align with AppSec Phoenix's principles. We are honoured to have such a dynamic executive and a well-respected professional joining our advisory board."

Francesco Cipollone CEO & Founder
An experienced and dynamic information security professional, Littlefair is also a board advisor to several established and startup organisations, a seasoned speaker, and is an active member of the cyber security community promoting awareness, diversity, and innovation.
" I am excited to join the advisory board for Appsec Phoenix as I strongly believe in the product and the leadership team behind the company," said Littlefair. " The solution fills a gap in the market, no other solution collects and visualizes the same level of content and context and presents clear actionable intelligence to both technical teams and management for remedial action."

Bryan Littlefair
Littlefair joins an advisory board that boasts several notable names in the cybersecurity sector, including:
Andrew Peterson, who led Signal Science, a leading cybersecurity product, for five years before it sold to Fastly for $775M. Peterson brings startup knowledge, international support, exposure to the US market, and key introductions to customers. His insight into the American market and its current trends and his contacts with venture capitalists provide valuable insight to the advisory team. He also advises several companies, and he has been instrumental in providing Security Phoenix with key recommendations on how to get a head start in product startup and potential pitfalls.
Robert Rodgers, who brings a wealth of security and IT knowledge from the client perspective to the Phoenix Security board. He has worked in the financial industry since 1995. Rodgers currently serves as an executive of Butterfield Group, and his past experience include former deputy CISO of HSBC Bank, security lead of Bank of Scotland, and global head of IT security of Bank of Bermuda. Rodgers brings a straightforward and no-frills perspective to the project with a pragmatic view of cybersecurity from the client side.
Xabi Errotabehere, who has more than 20 years of experience building world-class digital products. He co-founded Cloud Conformity, a Cloud Security Posture Management tool, and took the company in a high-growth mode before Trend Micro acquired it in 2019. Errotabehere brings insight into how to successfully manage a business in its early days and techniques to effectively go to market and acquire clients.
Kevin Fielder, who has led Just Eat Cybersecurity function, and worldpay cybersecurity consulting. Kevin has created and delivered highly successful security strategies aligned to business needs and risk appetite. Kevin has an extensive background spanning financial services, payments, and online retail, Kevin excels in building and leading high performing teams along with effectively engaging boards around cyber risk and resilience. Kevin is also a board advisor to several organizations, an experienced speaker and is an active member of the cyber security community promoting awareness, diversity and innovation.
To learn more about AppSec Phoenix or to schedule a free demo, visit https://www.phoenix.security/request-a-demo/.