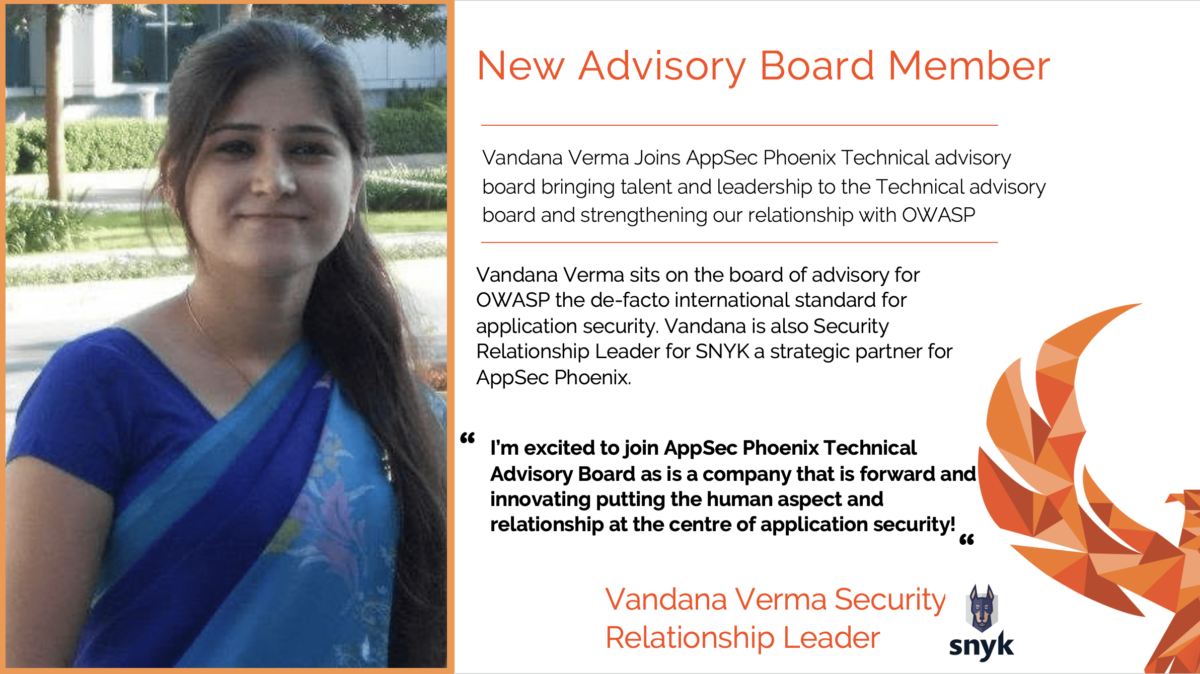 Vandana's expertise in cybersecurity community involvement and unique perspective will help the risk vulnerability management platform bolster its security capabilities and knowledge as it looks toward a seed funding campaign
LONDON, England (October 3, 2021)— AppSec Phoenix, an innovative risk-based vulnerability management software specialized in software and cloud security, has announced the addition of Vandana Verma to its board. Vanda brings 9 years of involvement with OWASP and close to two decades of technical and security expertise to AppSec Phoenix's advisory group, helping the company remain close to the community, focusing on diversity and meritocracy hiding.
Vandana is currently the Vice-Chair of OWASP and Security Relation Leader for SNYK. Vanda has held high technical roles for IBM, Accenture and Wipro. Fielder has created and delivered highly successful application and cloud security programs aligned to business needs and risk tolerance throughout his career.
An experienced and dynamic information security professional, Vanda is also involved in communities like Bsides, Cloud Security Alliance and the founder of Infosec Girls / Infosec Kids. Vandana is also an advocate for women and diversity
"We are excited to get such a pillar of the cybersecurity community on board," noted Francesco Cipollone, CEO and founder of AppSec Phoenix. "Vandana's kindness, connection to community, domain knowledge, years of experience, and honest, straightforward talk align with AppSec Phoenix's principles. We are honoured that such a leader in the industry recognized the value of our product and was eager to join a growing and thriving startup."
"I am thrilled to join AppSec Phoenix's advisory board as the company looks to build its expertise and capabilities in the risk vulnerability sector," said Vandana. "I'm passionate about enabling organizations to secure the environment and remove frictions between engineers, developers and executives. AppSec Phoenix helps organizations do this by enabling secure delivery quickly, linking application risks to business risks, and empowering developers to take charge of vulnerability management in a proactive way."
Vandana joins an advisory board that boasts several notable names in the cybersecurity sector, including:
Kevin Fielder, who has more than 20 years of extensive experience spanning financial services, payments, and online retail, excels in building and leading high-performing teams while effectively engaging boards around cyber risk and resilience. Fielder is currently the Chief Information Security Officer at FNZ Group and has held similar chief security roles at other companies in the UK. Fielder has created and delivered highly successful security strategies aligned to business needs and risk tolerance throughout his career.
Robert Rodgers brings a wealth of security and IT knowledge from the client perspective to the Phoenix Security board. He has worked in the financial industry since 1995. Rodgers currently serves as an executive of Butterfield Group. His experience includes former deputy CISO of HSBC Bank, security lead of Bank of Scotland, and global head of IT security of Bank of Bermuda. Rodgers brings a straightforward and no-frills perspective to the project with a pragmatic view of cybersecurity from the client-side.
Xabi Errotabehere has more than 20 years of experience building world-class digital products. He co-founded Cloud Conformity, a Cloud Security Posture Management tool, and took the company in a high-growth mode before Trend Micro acquired it in 2019. Errotabehere brings insight into how to successfully manage a business in its early days and techniques to market and acquire clients effectively.
Andrew Peterson, who led Signal Science, a leading cybersecurity product, for five years before it sold to Fastly for $775M. Peterson brings startup knowledge, international support, exposure to the US market, and critical introductions to customers. His insight into the American market and its current trends and his contacts with venture capitalists provide valuable insight to the advisory team. He also advises several companies, and he has been instrumental in delivering Security Phoenix with critical recommendations on how to get a head start in product startup and potential pitfalls.
To learn more about AppSec Phoenix or to schedule a free demo, visit https://www.phoenix.security/request-a-demo/.